Santa Claus Scott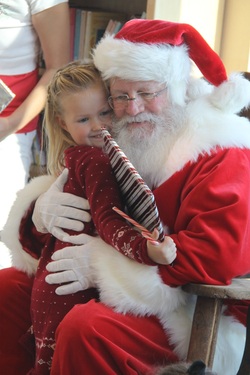 Why Santa?

Because it is healthy for our children.

Santa Claus Scott in his 'other life' is a doctor who has been in practice for over 50 years. He feels blessed to have helped many people, and yes, he has also been disappointed not to have helped others. He often wondered why some were helped and yet others not helped. As he began to analyze it, he did notice that those who tended to respond well seemed to have an attitude of optimism, a spark of hope, a spirit of Joy, an upbeat desire to heal and eagerly get back to life to serve their family and others, whereas others who failed to rally seemed to lack this spirit.

Reinforcing that which is good in all humans.

Now in this current stage of his life, he has decided to be more proactive about health by spreading and reinforcing Joy, especially to children. He knows children are very sensitive as they grow up in their formative years. Santa Scott believes that if children can be reinforced with the Christmas spirit of Joy, hope, the spirit of brotherhood, the spirit of generosity and grace, of love without conditions, they too then might carry those very qualities forward that make us the spiritual beings we are.

There is a Santa for everyone.

Thus Santa Claus Scott in the Christmas Season dedicates many hours to carry this spirit to children and their families. He does not do adult parties, company parties, etc., but has many fellow local Santa friends he can refer you to should you desire this type of service.

Second childhood, school and home visits

Santa Scott does however visit retirement homes for he has found those residents are indeed ready for their second childhood! He also makes private home visits or when sometimes two or three families get all their children together for a brief Santa neighborhood visit. Santa loves preschool and grade school visits.

Call us early at 760-519-9919 to reserve a time for your special Santa visit.

Santa Scott embodies Love, Kindness, Acceptance, Caring and much more. If you want a real Santa Claus, call Santa Claus Scott.

Since all profits go to children's charities, the love just keeps flowing.
---